Dr. Leigh Grossman
Embedded Researcher-Newark Police Division, Newark Public Safety Collaborative
Education
Rutgers University (Criminal Justice), M.A. 2011, Ph.D. May 2016; University of California San Diego (Urban Studies and Planning, Sociology), B.A. 2008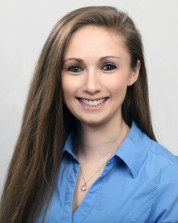 Bio
Leigh Grossman received her Ph.D. from the School of Criminal Justice at Rutgers University-Newark where she is now an Assistant Professor of Practice working with Dr. Todd Clear on public safety issues in the city of Newark.  She began working with the Newark Police Department in 2010 and is currently embedded in the Real Time Crime Center.  Leigh provides data and analytical support to various nonprofit and law enforcement organizations within the city including the Safer Newark Council.  She generally researches violent crimes such as fatal and nonfatal shootings, robbery, and gang violence.
Key Publications
Papachristos, Andrew V., Anthony A. Braga, Eric Piza, and Leigh S. Grossman. 2015. "The Company You Keep? The Spillover Effects of Gang Membership on Individual Gunshot Victimization in a Co-Offending Network." Criminology, 53(3).
Braga, Anthony A., David M. Hureau, and Leigh Grossman. 2014. Managing the Group Violence Intervention: Using Shooting Scorecards to Track Group Violence Washington, DC: U.S. Department of Justice, Office of Community Oriented Policing Services.
Braga, Anthony A., Brandon C. Welsh, Andrew V. Papachristos, Cory Schnell, and Leigh Grossman. 2013. "The Growth of Randomized Experiments in Policing: The Vital Few and the Salience of Mentoring." Journal of Experimental Criminology, 10(1): 1-28.