Judge Victoria Pratt
Professor of Professional Practice
Education
Juris Doctor, Rutgers University; BA, Rutgers University
Office Location
579B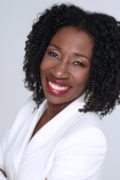 Bio
Judge Victoria Pratt is a renowned national and international advocate for reforming the criminal justice system. As the Chief Judge in Newark Municipal Court in Newark, NJ, she spent years using techniques that increased the public's trust in the justice system. While presiding over Newark Community Solutions, a Community Court Program, she used a transformational approach to provide alternative sentences to low-level offenders. Her TED Talk, How Judges Can Show Respect, has been translated into 11 languages and garnered over 30 million views via a Facebook clip. A globally recognized expert, her impactful work has been featured in the Guardian, Forbes and The Tamron Hall Show, to name a few.
Through Pratt Lucien Consultants, LLC, she has worked jurisdictions across the nation, as well as in Europe and South America, and with corporations and institutions such as LinkedIn, Facebook and Prudential. She is currently a Professor of Professional Practice and the Director of Strategic Planning and Program Development at Rutgers School of Criminal Justice in Newark, NJ.
Judge Pratt recently signed a book deal with Seal Press to author her first book, Justice Her Way, about her work as a reformer.