Danielle Shields
Research Areas
LGBTQ Criminology
Social Inequalities
Police-citizen Interactions
Gangs
Qualitative Methods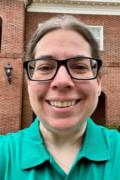 Bio
Danielle M. Shields, M.A. (she/her/hers) is a Ph.D. Candidate in Criminal Justice at the Rutgers University-Newark School of Criminal Justice. Her research examines social inequalities and their impact upon historically oppressed groups—such as LGBTQ people, people of color, and women—throughout justice-related contexts. She is interested in using intersectionality to examine how routine legal processes can produce uniquely punitive consequences for people representative of multiply-marginalized identities. Her dissertation examines LGBTQ-identified people from Newark and their experiences and perceptions across several areas, including: police contacts, crime victimization and reporting, and policing policies specific to LGBTQ communities. She has published work on policing diverse groups, police misconduct, gangs, and mental health and corrections.
In addition, Danielle is a Lecturer of Sociology and Criminology at the University of North Carolina Wilmington. With over a decade of instructional experience, she is well-versed in teaching modalities (live, online, hybrid) with undergraduate and graduate students from widely varying backgrounds and communities. She offers various criminology and sociology courses, including: race, class, gender, sexuality, and crime; corrections and punishment; victimization; theory; and research methods.
Recent Publications
Shields, D. M. (2021). Stonewalling in the brick city: Perceptions of and experiences with seeking police assistance among LGBTQ citizens. Social Sciences, 10(16), 1-27. doi:       10.3390/socsci10010016
https://www.mdpi.com/2076-0760/10/1/16
Shields, D. M. (2020). Police brutality. In J. Bumgarner and C. Lewandowski (Eds.), Criminal Justice in America: The Encyclopedia of Crime, Law Enforcement, Courts, and Corrections (Vol 2., pp.  436-443). Santa Barbara, CA: ABC-CLIO, LLC.
Shields, D. M. (2019). Biker gangs. In R. D. Morgan (Ed.), The SAGE Encyclopedia of Criminal  Psychology (Vol. 1., pp. 78-81). Thousand Oaks, CA: SAGE Publications, Inc.  doi:              http://dx.doi.org/10.4135/9781483392240.n33