Danielle Shields
Research Areas
LGBTQ Criminology
Social Inequalities
Police-citizen Interactions
Gangs
Qualitative Methods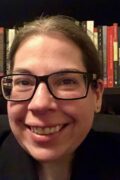 Bio
Danielle M. Shields is currently pursuing her PhD in criminal justice at Rutgers University-Newark. She is also employed as an adjunct instructor at New Jersey City University and West Chester University.  Currently, her work primarily centers on understanding the nature of LGBTQ citizens' interactions with the police.  She also studies other aspects of policing citizens, including the broader culture of policing and the use of force by the police.  In addition to the LGBTQ community, as a scholar-activist, Danielle is also interested in historically and contemporarily marginalized groups and their experiences with criminal justice contexts, such as racial and ethnic minorities and women.  From 2014 to 2018, she served as a Commissioner with Newark's LGBTQ Advisory Commission, where she assisted with policy-making related to the LGBTQ community.  Currently, Danielle is once again working with Newark's LGBTQ community through the City of Newark and Mayor Ras Baraka's office as a Commissioner.
Recent Publications
Shields, D. M. (2021). Stonewalling in the brick city: Perceptions of and experiences with seeking police assistance among LGBTQ citizens. Social Sciences, 10(16), 1-27. doi:       10.3390/socsci10010016
https://www.mdpi.com/2076-0760/10/1/16
Shields, D. M. (2020). Police brutality. In J. Bumgarner and C. Lewandowski (Eds.), Criminal Justice in America: The Encyclopedia of Crime, Law Enforcement, Courts, and Corrections (Vol 2., pp.  436-443). Santa Barbara, CA: ABC-CLIO, LLC.
Shields, D. M. (2019). Biker gangs. In R. D. Morgan (Ed.), The SAGE Encyclopedia of Criminal  Psychology (Vol. 1., pp. 78-81). Thousand Oaks, CA: SAGE Publications, Inc.  doi:              http://dx.doi.org/10.4135/9781483392240.n33