John M. Eason
Associate Professor, Department of Sociology, Texas A&M University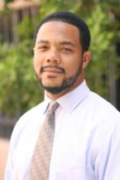 Bio
John Major Eason is an Associate Professor in the Department of Sociology at Texas A&M University. In his prior position at the School Criminology and Criminal Justice at Arizona State University he recieved the 2012 Rural Sociological Society Young Scholar Award.  He also served as the Provost's Postdoctoral Associate in the Department of Sociology at Duke University after receiving his Ph.D. from the Department of Sociology at the University of Chicago.
Professor Eason, a native of Evanston, Illinois received a B.A. in Urban and Regional Planning from the University of Illinois Urbana-Champaign in 1995 and a M.P.P. from the Irving B. Harris School of Public Policy at the University of Chicago in 2002. Before entering graduate school, he worked as a church-based community organizer focusing on housing and criminal justice issues. He also served as a political organizer most notably for then Illinois State Senator Barack Obama.
His research interest challenges existing models and develops new theories of community, health, race, punishment, and rural/urban processes in several ways. First, by tracing the emergence of the rural ghetto he establishes a new conceptual model of rural neighborhoods. Next, by demonstrating the function of the ghetto in rural communities he extneds concentrated disadvantage from urban to rural communitiy process. These relationships are explored through his book, Big House on the Prairie: Rise of the Rural Ghetto and Prison Proliferation, in print at the University of Chicago Press.
In his most recent project he collaborates with the National Immigrant Justice Center to investigate health outcomes in immigrant detention centers. He uses multi-method, multi-level approaches in empirical investigations ranging from imprisonment, prisoner reentry, murder, healthcare access, and health disparities across the rural-urban continuum.