Master of Arts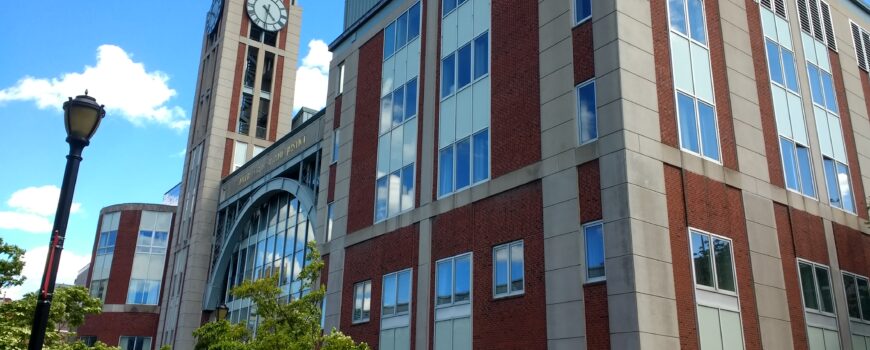 "Despite my experience as a practitioner, SCJ gave me a much broader perspective of the criminal justice field. My professors are outstanding and most classes run seminar-style."
– Michael Esposito (M.A. '14) FBI (Ret.)
The Master of Arts in Criminal Justice prepares students for positions of leadership and responsibility in government organizations/non-profits, dealing with issues of crime, justice and law-enforcement. We also provide advanced training in social science research and methods for students seeking to pursue academic careers. This is achieved through coursework and hands-on experience that emphasize up-to-date knowledge about contemporary policies and practices in crime and justice, and the development of skills needed for students to become more effective agents of change in their communities of practice.
The Master of Arts program requires 30 credits of coursework with a minimum cumulative grade point average of 2.8. The 30 credits include 12 credits of core courses and 18 credits of electives. Students can customarily complete the degree in 3 semesters if enrolled full-time (5 semesters if enrolled part- time). All requirements for the Master of Arts degree must be completed within three years of the first matriculation in the criminal justice program.
PROGRAM REQUIREMENTS
Required Courses (12 credits)
The required courses listed below help lay a foundation in criminal justice issues, policy and research. The Masters Project Seminar is the capstone class for the M.A. Program. Students will complete a research paper as a requirement for the seminar.
Four Core Courses:
27:202:522 Research and Evaluation
27:202:523 Data Analysis and Management
27:202:525 Justice, Law and Policy
27:202:553 Master's Project Seminar
Six Electives (18 credits)
Electives can be taken to build a substantive concentration on themes such as Crime Prevention, Social Justice or Research Methodology among others. Students can also enroll in courses offered at the Rutgers Business School, Women Studies and Public Affairs to build a more cross disciplinary foundation. For a full list of courses visit: https://rscj.newark.rutgers.edu/graduate-program/graduate-course-descriptions-syllabi/
GRADUATION REQUIREMENTS
It is the responsibility of the student to complete all requirements for graduation by the scheduled dates listed below. Each student should consult with the graduate director of his or her program and with the Office of Academic Programs and Student Services with respect to the completion of the requirements for graduation. Conferral of degrees and diplomas occurs once a year at the annual spring commencement. Students who file the applications and complete all other requirements for the degree by the announced October or January dates will have a diploma dated for the respective month, although they will not receive it until the following spring. To provide proof that they have earned a degree before commencement, students may file a written request for a temporary certificate of completion with the Office of Academic Programs and Student Services. The school withholds diplomas from any student who is under financial obligation to the university.
The electronic diploma application can be accessed at: https://grad.admissions.rutgers.edu/Diploma/Login.aspx?ReturnUrl=%2fDiploma
| | |
| --- | --- |
| Diploma Date | Application Deadline |
| January Degree | November 1 |
| May Degree | March 1 |
| October Degree | August 1 |
Commencement occurs annually in May. For more information, visit http://www.newark.rutgers.edu/commencement.
M.A. PROGRAM LEARNING GOALS
We link our students to real-world issues and practices to promote careers of impact in a range of public and private organizations that deal with crime, justice, and their consequences. This is achieved through a rigorous grounding in policy, theory, and analysis that involves the following competencies:
Policy skills
Students will develop knowledge of criminal justice system operations and key debates in the field to become informed criminal justice policy analysts. This will be achieved through a comprehensive training encompassing the review of substantive approaches to the structure and change of criminal justice organizations as well as in-depth case studies centered on issues of management, resource allocation and innovation.
Problem-solving
Students will learn how to identify and measure crime and criminal justice policy problems using appropriate methodological and statistical techniques. They will also learn how to design appropriate targeted interventions to respond to these problems, and techniques of monitoring and evaluation to track the success of interventions.
Integrity
Students will deepen their sense of responsibility and commitment to the criminal justice field and the communities affected by criminal justice policies. They will do this by learning to bridge gaps between policy, research and theory, and to appreciate the social context of criminal justice policies and both their intended and unintended consequences.
Leadership
Students will develop the confidence and vision to become agents of change within criminal justice agencies, social service organizations, and communities impacted by criminal justice policies. This will be acquired through hands-on experience(s) working in the field, and learning ways to design and advocate for solutions to crime and criminal justice problems.