Graduation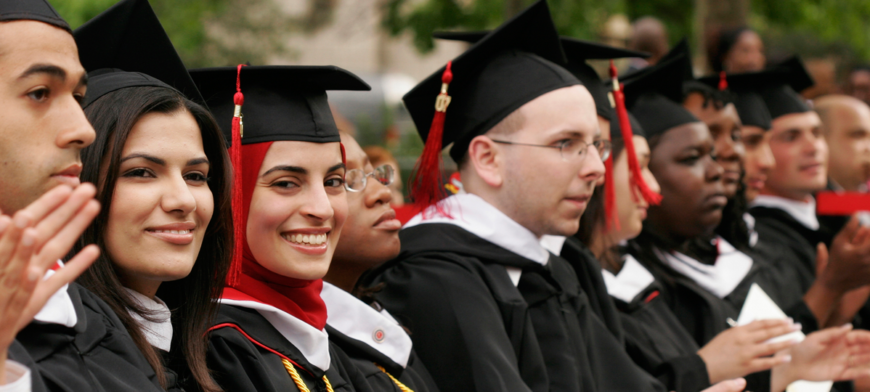 GRADUATION AT A GLANCE
Commencement Information for 2023
Date: May 16, 2023
Location: Prudential Center
Time: 9:00am
For more information, please visit https://www.newark.rutgers.edu/commencement/.
Please be sure to read the Prudential Health and Safety Guidelines, including information about what personal belongings, bags, etc are/are not permitted in the arena.
CRITERIA FOR GRADUATING
Minimum criteria for graduation. Successful completion of the following:
• A minimum of 120 degree credits
• The college's core curriculum
• The criminal justice major requirements
• A second concentration*
• The writing intensive requirement
• A minimum grade point average of 2.0
All candidates for graduation must complete a diploma application form online in order to be considered for graduation.
The deadline for applying is as follows:
| | | |
| --- | --- | --- |
| Graduation Date | Last term completed | Submit an online application by: |
| August | Summer | July 30th |
| January | Fall | October 15th |
| May | Spring | February 15th |
Only ONE Convocation Ceremony is held annually in May for ALL graduates (October, January and May).Unless the application is filed by the appropriate date, the degree is not conferred and graduation is delayed.
It is the responsibility of each student to ensure that all the graduation requirements of the college, including certification of the major, have been fully met well before the expected date of graduation. For a personal academic degree audit evaluation, please visit the degree navigator.
To participate in a commencement ceremony, a student must have successfully completed all degree requirements. Inquiries concerning graduation may be directed to The Office of Academic & Student Services located in The School of Criminal Justice.
Click here to Apply.

*August graduates are invited to walk and participate in the May commencement ceremony. Students who would like to walk and participate in the May commencement ceremony must register for all final classes in the Summer, apply for August graduation, and submit a permission request form.
PERMISSION TO WALK
Click here to access the permission request form. The deadline to submit a request to participate in the May 2023 commencement ceremony is April 29, 2023.

Please note: August graduates will not have their names printed in the commencement program, but they are welcome to participate and will have their names announced during the ceremony.

*Please note that if you plan to walk during the May '23 ceremony, you will need to purchase your regalia before the deadline listed on the website: March 28, 2023. This form is to only approve you to walk and will not extend the time for you to order regalia for the ceremony. If you do not have regalia purchased for the ceremony, you are unable to participate.

GRADUATING WITH HONORS
Earning a bachelor's degree with honors is a tremendous accomplishment! Students who earn this distinction will be given an honor cord(s) or medallion to wear to commencement. Honor cords/Medallions will be distributed during Name Card pick-up (announced later in Spring semester). The honors designation will also be noted on your final transcript and degree. Honors will be awarded to graduates who have a cumulative Grade Point Average as follows:
| | |
| --- | --- |
| Cum laude | 3.500- 3.699 |
| Magna cum laude | 3.700- 3.849 |
| Summa cum laude | 3.850- 4.00 |
Honors at Commencement
Honor status will be displayed on the main screen as your name is called during the Commencement Ceremony and listed in the Commencement program. For May candidates: This will be based on your current completed GPA – not including spring grades. After the Commencement Ceremony your GPA will be recalculated with your spring grades and if you qualify for honors it will be noted on your final transcript and diploma.
GRADUATION REGALIA (CAP, GOWN, HOOD)
Ship to the Bookstore- Deadline to order is March 28, 2023
Ship to Home- Deadline to order is March 28, 2023

In order to participate in the ceremony, all graduates must place regalia orders with the Barnes & Noble Bookstore. Regalia is provided by Oak Hall, a partner of the Barnes and Nobles Bookstore. The website for purchasing Rutgers-Newark regalia is: Externalhttps://rutgersnewark1.shopoakhalli.com/purchasewizard/Welcome

It is important to note that the bookstore will not have regalia in-store. (Also note: Rutgers-Camden and Rutgers-New Brunswick have their own dedicated websites for ordering regalia.) For information about regalia please reach out to Victor Harris, Barnes & Noble bookstore manager, at sm409@bncollege.com or (973) 353-2200.

NOTE: If you selected to have regalia shipped to the store, pick-up will begin May 2nd until May 12th.
ACADEMIC HOOD
The colors of the outside trim of the hood is associated with your degree and everyone will have a red stripe to represent RU.

Bachelor of Arts Degree- Justice Studies (White Hood)
Bachelor of Science Degree- Criminal Justice (Yellow Hood)
SENIOR PICTURES
During the month of February, March and April, Island Photography will be on campus so that students who want to have their senior portrait taken can do so during this time.

Schedule your Senior Portrait now.

For information on Senior Portraits, please contact the Office of Student Life and Leadership via email studentlife@newark.rutgers.edu.
Island Photography Contact Information
Phone: (516) 767-1234Email: custserv@islandphoto.com


CLASS RINGS
Balfour Rings

Graduation rings can be purchased through Balfour. Visit this website to look at the rings and make a purchase.

If you have any questions you may call the Customer Service Department at (800-225-3687) or email CollegeRings@Balfour.com.
QUESTIONS?
Please reach out to your academic advisor via email or set up an appointment through Navigate if you have any questions about this May's graduation and/or the ceremony.
You can also attend our Graduation Workshops below and find out more about what is required for graduation and the ceremony being held on May 16, 2023.