Karina Caione
Research Areas
Brazilian Tax Law and Customs Law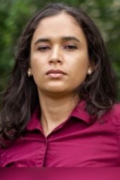 Bio
Mrs. Caione is a Brazilian Lawyer who graduated from Faculdade UPIS in Brasília, Brazil. She holds two specializations in Brazilian customs and tax law by the University Candido Mendes in Rio de Janeiro. Currently, she is walking her path to practice law here in the United States.
Karina has a high commitment to do everything she can to reach the best results in all projects in which she gets involved. Previously her current position in a law firm in NJ, Mrs. Caione assisted clients from diverse backgrounds. Educational and financial institutions also assemble the caseloads in which she worked in South America. While in college, she also volunteered to work in family matters, of which the majority of the cases were advocating for domestic violence victims.
Besides the practice in legal matters, Mrs. Caione, in partnership with another law firm in NY, has also developed and supervised crossnational research between the US and Brazil.
Karina is an active member of the Brazilian Bar Association. Currently, she is working on her Master's Degree in the School of Criminal Justice at Rutgers University.