Popy Begum
Research Areas
Intersectionality of race/ethnicity, gender, and religion
International/comparative crime and justice
Qualitative methods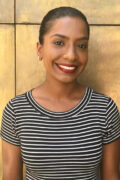 Bio
Popy Begum was born in Sylhet, Bangladesh and raised in Astoria, Queens. She graduated from John Jay College of Criminal Justice with a B.A. in International Criminal Justice and Certificate in Dispute Resolution. Popy earned the MSc in Criminology and Criminal Justice (Research Methods) from the Centre for Criminology, Oxford University in England. Among Popy's broad interests are (1) intersectionality of race/ethnicity, gender, and religion; (2) the comparative role of crime and justice phenomena across multiple societies (e.g., South Asia, West Africa, the Balkans, the United States and the United Kingdom); and (3) qualitative methods. She has explored the experiences of victims and survivors in forced marriages in the United Kingdom and United States, the role of West African and Balkan women in human trafficking networks, and most recently, for her dissertation, she conducted a mixed-methods study of Muslim and Hindu sex workers in New Delhi, India using participant observations and 102 in-depth interviews via Respondent-driven Sampling.
Popy has won over 50 awards for excellence in research, teaching, mentoring and service. Her research has been supported and recognized by organizations locally and internationally, including the Howard League for Penal Reform, the American Society of Criminology, the Society for the Study of Social Problems, the Association of Doctoral Programs in Criminology and Criminal Justice, the Association for the Sociology of Religion, the Religious Research Association, and the Society for the Scientific Study of Religion. Popy's work has appeared in peer-reviewed journals, including Trends in Organized Crime, Social Policy and Society, and edited volumes published by Oxford and Cambridge University Presses.
Popy teaches a wide-range of range of criminal justice courses, including but not restricted to Gender, Crime and Justice, International Criminal Justice, and Crime and Delinquency in Asia at Rutgers University and John Jay College.
In her spare time, Popy enjoys long-distance running, globe-trotting, and adding to her collection of rare hues of sea glass