Forrest Stuart
Assistant Professor, Department of Sociology, University of Chicago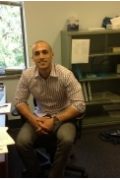 Bio
My research investigates how recent developments—specifically mass incarceration, zero-tolerance policing, digital social media, and new forms of music—have reshaped the social fabric of disadvantaged neighborhoods in the twenty-first century. This agenda has led to number of original research projects, community organizing efforts, and intervention programs. My research has been published in Urban Studies, Law and Social Inquiry, Souls, Annual Review of Law and Social Science, Annals of the American Academy of Political and Social Science, and other venues. Throughout my work I make efforts to embrace the ideals of public sociology, which enlists community members as valuable co-producers of knowledge. I also enjoy collaborating with graduate students throughout the data collection and writing processes. I am currently accepting graduate students who share my research interests and approaches.
My first book, Down, Out, and Under Arrest: Policing in Everyday Life in Skid Row (University of Chicago Press, 2016) is an in-depth ethnography of Los Angeles' Skid Row district, an area long regarded as the "homeless capital of America."
I am currently conducting research for my second book, which investigates the intersections of poverty, culture, digital social media, and hip-hop on Chicago's south side.
As a faculty fellow of the University of Chicago's Urban Health Initiative (UHI), I recently created the South Side Youth Violence Prevention Project (SSYVPP). Through a partnership with the Chicago YMCA's Youth Safety and Violence Prevention (YSVP) office, we launched a violence prevention intervention for youth ages 12 to 17. The program, named Story Squad, uses an audio production and story-telling curriculum to help youth process trauma, develop prosocial skills, and build a safer community. A short video on Story Squad can be found here: http://bit.ly/1RmiCSz.Audio stories can be heard here: http://bit.ly/1RmiCSz.