Lallen Johnson
Assistant Professor, Department of Criminal Justice, Drexel University College of Arts and Sciences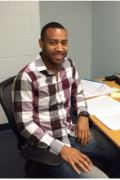 Bio
Lallen Johnson, PhD, considers himself an interdisciplinary scholar, with research interests at the intersection of urban studies, crime, and place. His most recent research examines neighborhood-level effects of gaming establishments on crime; and, how structural shifts affect municipality-level violent crime hotspots within the Philadelphia Metropolitan Area.
Lallen is a 2010 Graduate Research Fellow of the National Institute of Justice. His funded research has examined the travel patterns of illicit drug arrestees in the Philadelphia region to understand the relationship between drug crime and violence. In addition to studying illicit drug crime, he has collaborated with colleagues to assess the effectiveness of state legislation on the diversion and abuse of prescription drugs in the state of Florida.
Before arriving at Drexel, Lallen was a visiting assistant professor of Criminal Justice at the University of Central Florida. He has taught courses on drugs and crime, communities and crime, and race and justice.