Nicole Gonzalez Van Cleve
Assistant Professor, Department of Criminal Justice, Temple University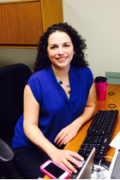 Bio
Nicole Gonzalez Van Cleve is an Assistant Professor at Temple University in the Department of Criminal Justice with courtesy appointments in the Department of Sociology and the Beasley School of Law. She is the recipient of the 2014-2015 Ford Foundation Fellowship Postdoctoral Award, the 2015 New Scholar Award (co-winner) awarded by American Society of Criminology's Division on People of Color and Crime. She is also an affiliated scholar with the American Bar Foundation. Her award-winning book, "Crook County: Racism and Injustice in America's Largest Criminal Court," was an NAACP Image Award Finalist, a two-time Prose Award Winner and a recent winner of three "Best Book" distinctions by the American Sociological Association. It has been featured on NBC News, MSNBC's The Rachel Maddow Show and CNN.
Van Cleve received her Ph.D. in Sociology from Northwestern University where she was a legal studies fellow. She received her B.A. and M.A. from Northwestern University where she was awarded the Farrel Grant for Public Policy and the Badesch Fellowship from the Chicago Appleseed Fund for Justice. Her research examines the cultural impact of mass incarceration on criminal justice apparatuses. She explores the contradictory ways that racial stigma is reproduced by these institutions in a purportedly, "colorblind" era.  Her article "Criminal Justice through 'Colorblind' Lenses" published in Law and Social Inquiry is emblematic of her focus on theoretically innovating how the variable of race is treated within the field of criminal justice and the social sciences, more broadly. The article is a call-to-action for empirical scholars to take a critical race approach to empirical work in the fields of sociology, criminal justice, law and punishment. This article is the winner of the 2017 the Kimberlé Crenshaw Outstanding Article Award from The Society for the Study of Social Problem's (SSSP) Division on Racial and Ethnic Minorities.
Her recent Criminology article (with Professor Armando Lara-Milan), "The Organizational Utility of Welfare Rationale in the Criminal Justice System," elucidates the use of "welfare stigma" or stereotypes about poor people's overreliance and abuse of public aid in two core criminal justice functions: felony adjudication in a court system and space allocation in a jail. The comparative nature of their data reveals that welfare stigma has inter-organizational utility by serving two different organizational goals: It streamlines convictions in courts, which pulls defendants through adjudication, and conversely, it expands early release from jails, which pulls inmates out of the custody population. The article won the 2017 Distinguished Article Prize Awarded by the Sociology of Law Section of the American Sociological Association.
Prior to receiving her Ph.D., Van Cleve served in The Office of the Chief of Staff at the White House during the Clinton Administration and subsequently worked for five years as a Consumer Brand Planner for Leo Burnett, USA. She is the former Research Director for Chicago Appleseed Fund for Justice – a policy/nonprofit organization that specialized in legal advocacy.