Schannae L. Lucas
Associate Professor of Criminology and Criminal Justice, California Lutheran University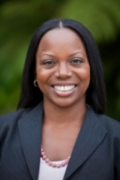 Bio
Schannae Lucas completed her Ph.D. in Criminal Justice at Washington State University, writing her dissertation on "The Juvenile Drug Courts Decision Making Process: A Multicultural Perspective."
She earned an M.A. in Criminal Justice at Washington State, and a B.S. in Social Science at the University of California, Irvine. She comes to CLU from Lewis University, where she was Assistant Professor of Justice, Law and Public Safety Studies.
She also has taught at Washington State University. Dr. Lucas' work has taken her to Garden Grove, CA., where she worked on Monitor II/Special Projects for the Community Correctional Center and to Santa Ana, CA, where she interned for the U.S. Probation and Parole Office.
She also has considerable experience as a research assistant at Washington State.