Dr. Delores Jones-Brown
Professor Department of Law, Police Science & Criminal Justice Administration John Jay College of Criminal Justice
Contact Info
John Jay College of Criminal Justice
Department of Law and Police Science
899 Tenth Ave, Room 422.36 T
New York, NY 10019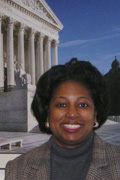 Bio
I am a currently a Professor in the Department of Law, Police Science and Criminal Justice Administration at John Jay College of Criminal Justice, City University of New York. I am also the founding director of the John Jay College Center on Race, Crime and Justice where I currently serve as faculty research fellow. My areas of research and scholarship include: race, crime and the administration of justice, police-community relations, juvenile justice, and the legal socialization of adolescent males. My book, Race, Crime and Punishment, won a New York Public Library award in 2001. I have served as the co-editor of two additional books: The System in Black and White: Exploring the Connections between Race, Crime and Justice (Praeger, 2000) and Policing and Minority Communities: Bridging the Gap (Prentice Hall, 2004). My work has appeared in multiple articles, book chapters and legal commentaries. I am also the recipient of the 2012 W.E.B. Dubois Award from the Western Society of Criminology. My current projects include an encyclopedia on African Americans and Criminal Justice for ABC-CLIO (formerly Greenwood Publishing Group). I am also a co-Principal Investigator in a project funded by the Russell Sage Foundation entitled "Policing equity: Scaffolding the future of racial and gender equity research in law enforcement".
In 1986, I was the first student to complete the joint degree program offering the Masters in Criminal Justice and the Law Degree (Juris Doctor) from Rutgers School of Criminal Justice and Rutgers Law School-Newark. In 1996, I completed my doctorate in Criminal Justice under the mentorship of Drs. James O. Finckenauer, Todd R. Clear, Candace McCoy and Jeanette Covington (Sociology, Rutgers, Livingston Campus). My advance studies and career development were aided by a National Science Foundation, Minority Graduate Student Travel Award in 1993, through which I met my mentor, Dr. Zelma Weston Henriques at John Jay College. My post-doctoral studies which examined the relationship between African American males, schools and delinquency were completed in the Department of Health and Behavioral Studies at Teachers College, Columbia University and in the Behavioral Sciences Training Program at the National Development and Research Institutes from 1997 to 2000.
In addition to being on the John Jay faculty for nineteen years, I am a former assistant prosecutor in Monmouth County, New Jersey and have worked in both community-based and institutional corrections. I am one of the first graduate student interns for the New Jersey Intensive Supervision Program operated by the Administrative Office of the Courts and I served as a rehabilitation counselor for the Virginia Department of Corrections. As part of a collaboration between Rutgers University and the New Jersey Division of Juvenile Justice, I helped design and implement a mentoring program for court-involved youth. I remain active as a consultant developing curricula for law and justice-related education in middle schools and high schools. My previous work in this area included a comparative curriculum in Mexico and the San Diego, California area. My current work in this area spans the state of California and provides training for high school teachers across the country.
Other faculty appointments have included: The College of New Jersey, Rutgers University College, Temple University, Rowan University (when Glassboro State College) and Monmouth County Police Academy.