Dr. Andrew M. Lemieux
Post-doctoral Research Fellow Netherlands Institute for the Study of Crime and Law Enforcement (NSCR)
Contact Info
NSCR
Postbus 71304
1008 BH
Amsterdam
Netherlands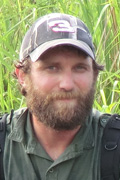 Bio
I am currently a post-doctoral research fellow at the Netherlands Institute for the Study of Crime and Law Enforcement (NSCR). My research agenda focuses on three topics: (a) wildlife crime, (b) visitor crime and (c) time-based risk assessments. Extending upon my dissertation work, I have started to collect time use information on victimization surveys. I believe that this should enhance efforts to accurately describe the relative risk of different lifestyles and build causal models of victimization. Consistent with this perspective last spring I contributed to the design and implementation of a victimization survey in Amsterdam aimed to study the link between time use and visitor crime. Tourists were interviewed about their activity patterns as well as any criminal involvement as a victim, offender or witness; the results are forthcoming.
The remainder of my current agenda research agenda concerns wildlife crime. Poaching prevention is one of my areas of expertise and I am currently collaborating with the Uganda Wildlife Authority on a number of ventures. The objective of these projects is to increase ranger efficiency using tools and training programs. Through training, one project seeks to make crime mapping and analysis a standard part of the deployment decision making process. The second project explores how low-cost, sustainable technology can help rangers while they are in the bush. Following field tests in Uganda, digital cameras with GPS receivers proved useful for tracking ranger movements and assigning spatial data to photographed evidence. During the next phase of the project, an international collaboration will determine how radar technology and unmanned aerial vehicles (UAVs) can help increase patrol coverage in remote areas. The goal of both projects is to increase poacher apprehension and decrease animal mortality.
These research topics are a bit outside of mainstream criminology. For example, a large portion of the world's literature on wildlife crime, visitor crime and time-based rates is found in journals of conservation biology, hospitality and epidemiological respectively. I hope to stimulate more research in these areas believing all three help criminological theory testing and have practical applications.
I thank Marcus Felson and Ron Clarke for their mentorship, inspiration and encouragement during my time at Rutgers. They are responsible for making the early stages of these projects possible.