Lori Scott-Pickens
Director of Community Outreach/Learning
Education
M.P.A., Rutgers University; B.A. in Sociology, Montclair State University
Office Location
CLJ, 565
Areas of Specialization
Community Outreach and Public Relations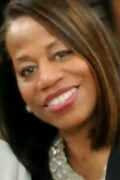 Bio
Ms. Scott-Pickens is currently the Director of Community Outreach and is an Adjunct Professor at the School for the School of Criminal Justice (SCJ) at Rutgers University in Newark. Recently, she was the Deputy Executive Director SCJ's Police Institute. The Police Institute served as the Neutral Convener for several community and law enforcement collaborations including; the Greater Newark Safer Cities, the Serious and Violent Offender Re-Entry Initiatives, Operation CeaseFire, the Gun Strategy, Newark Violence Reduction Initiative, and four of the five Fugitive Safe Surrender programs held in NJ; Newark, New Brunswick, Atlantic City and Jersey City where NJ leads the nation in serving more than 17,000 participants.
Ms. Scott-Pickens has an extensive background in community organizing at the local, state and national levels where she has provided consultation and technical assistance. She is the co-facilitator of the Juvenile Justice Re-entry Initiatives in Essex County where she is a member of the Youth Services Commission's Multi-Disciplinary Team. She also served as Co-Chair of the statewide Juvenile Re-Entry Coordinating Council. She works closely with various levels of government, faith-based institutions, residents and community-based organizations around Restorative Justice, Community-Policing and Prisoner Re-Entry efforts where she also serves in an advisory capacity.
Ms. Scott-Pickens has worked for some of Newark's premiere non-profit organizations including; the Advocates for Children of New Jersey, Unified Vailsburg Services Organization, Newark Fighting Back Partnership Inc. and Community Agencies Corp of NJ. She has also held positions in both state and local government. Ms. Pickens is a committed community advocate for children and families and has been involved in the development of several publications, grants and articles on behalf of the Newark's children and families. She served two terms as co-chair of the Essex Vicinage's Advisory Committee on Minority Concerns. In addition, she has also been a Board Member of the US Department of Justice's COPS Office's Policing Resource Advisory Board appointed by the then Clinton Administration. She is an active member of various organizations involved in criminal and social justice on both the local and national levels.
Ms. Scott-Pickens has received numerous awards and recognitions for her work and holds a BA in Sociology from Montclair State University and a Master Degree in Public Administration from Rutgers University.