Randol Contreras
Assistant Professor, Department of Sociology, University of Toronto Mississauga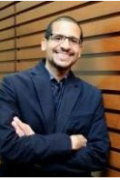 Bio
Dr. Randol Contreras was born in the South Bronx to Dominican immigrant parents. He came of age during the Crack Era and when the South Bronx was riddled with arson and abandonment. However, as a student of New York's public university system, he attained a community college degree in Social Science, then a Bachelor's degree in Sociology, and then a Ph.D. in Sociology from The Graduate Center of the City University of New York.
For his research, he studied the drug market in his South Bronx neighborhood. This field work became the basis of his book, The Stickup Kids: Race, Drugs, Violence, and the American Dream. The book has won the 2014 Special Recognition Award for an Outstanding Monograph that Advances the Understanding of Urban Life (Society of Urban, National, Transnational/Global Anthropology) and the 2013 UC Press Exceptional First Book Award (literary organization, PEN Center USA). It has also received the distinctions of being a Finalist for the 2014 C. Wright Mills Award and an Honorable Mention for the 2015 Mirra Komarovsky Award.
Currently, Dr. Contreras is doing field research on the Maravilla gangs of East Los Angeles. His larger goal is to use ethnography to reveal and explain the human pain and suffering prevalent in marginal urban areas.