Dr. Brenden Beck
Associate Professor
Education
Ph.D. (2018) Sociology, City University of New York – Graduate Center
Office Location
CLJ, 542
Office Hours
Thursdays, 4:00pm – 5:00pm
Areas of Specialization
Policing
Cities
Spatial Analysis
Research Methods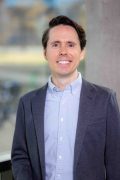 Bio
Brenden Beck is a sociologist studying policing, city budgets, housing, and suburbs. A current research project of his investigates how municipal governments shift funding from social services to policing during recessions and how those shifts influence long-term crime rates. His previous research examined how cities' reliance on fine-and-fee revenue affects their frequency of police killings, how police budget size shapes police practices, and how gentrification and suburbanization affect misdemeanor arrest rates. Brenden has published in the Annual Review of Sociology, Social Forces, Police Quarterly, the British Journal of Criminology, and elsewhere. He teaches courses on research methods and policing. His general-interest writing has appeared in Slate, the New York Daily News, and the Appeal, among other places. Prior to joining Rutgers in 2023, Brenden was an Assistant Professor at the University of Colorado Denver and at the University of Florida.
Publications
Beck, Brenden. 2023. "Police Killings and Municipal Reliance on Fine-and-Fee Revenue." RSF: The Russell Sage Foundation Journal of the Social Sciences 9(2): 161–81.
Beck, Brenden, Eaven Holder*, Abigail Novak, and Jacob Kaplan. 2023. "The Material of Policing: Budgets, Personnel, and the United States' Misdemeanor Arrest Decline." The British Journal of Criminology 63(2): 330-347.
Simes, Jessica, Brenden Beck, and John Eason. 2023. "Policing, Punishment, and Place: Spatial-Contextual Analyses of the Criminal Legal System." Annual Review of Sociology 49.
Beck, Brenden and Eaven Holder*. 2022. "Proximity and Policing: Spatial Dynamics of the Misdemeanor Arrest Decline." Socius 8: 1-12.
Beck, Brenden. 2020. "Policing Gentrification: Stops and Low-Level Arrests during Demographic Change and Real Estate Reinvestment." City & Community 19(1): 245-272.
Beck, Brenden. 2019. "Broken Windows in the Cul-de-Sac: Race/Ethnicity and Quality-of-Life Policing in the Changing Suburbs." Crime & Delinquency 65(2):270-292.
Beck, Brenden and Adam Goldstein. 2018. "Governing Through Police? Housing Market Reliance, Welfare Retrenchment, and Police Budgeting in an Era of Declining Crime." Social Forces 96(3):1183-1210.