Dr. Ko-lin Chin
Distinguished Professor
Education
Ph.D. (1986) University of Pennsylvania
Office Location
CLJ, 543
Office Hours
Tuesdays, 2:00-4:00 PM
Areas of Specialization
Gangs & organized crime
Human smuggling & trafficking
Drug Trafficking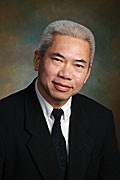 Bio
Ko-lin Chin has written extensively on issues related to Chinese crime groups and networks, including Chinatown gangs and tongs, human smuggling organizations, organized crime in Taiwan and China, the heroin and methamphetamine businesses in Myanmar and China, and sex trafficking networks in Asia and the United States. Dr. Chin has received funding from the National Science Foundation, the National Institute of Justice, as well as two Fulbright Scholarships for his work on transnational organized crime. He is currently working on a book on the counterfeiting of luxury fashion goods in China.
Recent & Key Publications
Chin, K. and S. Zhang. (2015).  The Chinese heroin trade: Cross-border drug trafficking in southeast a Asia and beyond.  New York: New York University Press.
https://nyupress.org/9781479895403/the-chinese-heroin-trade/
Chin, K. (2014). Going down to the sea: Chinese sex workers abroad.  Chiang Mai, Thailand: Silkworm Books.
https://silkwormbooks.com/products/going-down-to-the-sea
Chin, K. and Finckenauer, J. (2012).  Selling sex overseas: Chinese women and the realities of prostitution and global sex trafficking. New York: New York University Press.
https://www.questia.com/library/120090014/selling-sex-overseas-chinese-women-and-the-realities
Chin, K. (2009).  The golden triangle: Inside Southeast Asia's drug trade.  Ithaca: Cornell University Press.
Chin, K. (2003). Heijin: Organized crime, business, and politics in Taiwan.  Armonk, NY: M.E. Sharpe.
Chin, K. (1999).  Smuggled Chinese: Clandestine immigration to the United States.  Philadelphia: Temple University Press.
Chin, K. (1996). Chinatown gangs: Extortion, enterprise, and ethnicity.  New York: Oxford University Press.
Kelly, R., K. Chin, and R. Schatzberg, eds. (1994).  Handbook of organized crime in the United States.  Westport: CT: Greenwood.
Chin, K. (1990).  Chinese subculture and criminality: Non-traditional crime groups in America.  Westport, CT: Greenwood