Dr. Colleen Berryessa
Assistant Professor
Education
Ph.D. (2018) Criminology, University of Pennsylvania; B.A. (2011) Government and Mind, Brain, & Behavior, Harvard University
Office Location
CLJ, 579 G
Areas of Specialization
Law
Psychology
Courts & Sentencing
Mental Health
Neuroscience/Genetics
Quantitative and Qualitative Methods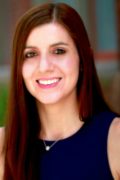 Bio
Dr. Colleen M. Berryessa joined the faculty in the School of Criminal Justice at Rutgers University in 2018. Her research, utilizing both quantitative and qualitative methods, examines discretion in the criminal justice system and how it may affect responses to criminal offending, specifically related to courts and sentencing. She particularly focuses on how perceptions, attitudes, psychological phenomena, and social contexts affect the justice process and legal decision-making. Dr. Berryessa received her Ph.D. in Criminology from the University of Pennsylvania in 2018. Before Penn, she graduated from Harvard University with a B.A. in Government and Mind, Brain, and Behavior, and she served as a CIRGE research fellow at Stanford University.
Her personal website is colleenberryessa.com.
Recent & Key Publications
Berryessa, C. M. (2020). The effects of essentialist attitudes toward biosocial risk factors for criminality and types of offending on lay punishment support. Behavioral Sciences & the Law 38(4): 355-380.
https://onlinelibrary.wiley.com/doi/full/10.1002/bsl.2476
Berryessa, C. M.  (2020). Compassionate release as a "right" in the age of COVID-19. American Journal of Bioethics, 20, 185-187.
Berryessa, C. M. & Chandler, J. (2020). The role of the defense attorney in relation to biological interventions as rehabilitative strategies. Journal of Offender Rehabilitation.
https://www.tandfonline.com/doi/abs/10.1080/10509674.2020.1784350?journalCode=wjor20
Berryessa, C. M., Coppola, F., & Salvato, G. (2020). The potential effect of neurobiological evidence on the adjudication of criminal responsibility of psychopathic defendants in involuntary manslaughter cases. Psychology, Crime, & Law.
https://www.tandfonline.com/doi/abs/10.1080/1068316X.2020.1780590?journalCode=gpcl20
Berryessa, C. M., & Krenzer, W. (2020). The stigma of addiction and effects on community perceptions of procedural justice in drug treatment courts. Journal of Drug Issues, 50, 303-328. 
https://doi.org/10.1177/0022042620918950
Berryessa, C. M., & Reeves, J. (2020). The perceptions of juvenile judges regarding adolescent development in evaluating juvenile competency. Journal of Criminal Law and Criminology, 110, 551-592.
https://scholarlycommons.law.northwestern.edu/jclc/vol110/iss3/4
Berryessa, C. M., & Lively, C. (2019). When a sex offender wins the lottery: Social and legal punitiveness toward sex offenders in an instance of perceived injustice. Psychology, Public Policy, and Law, 25, 181-195.  
https://doi.org/10.1037/law0000198
Berryessa, C. M. (2019). Judicial stereotyping associated with genetic essentialist biases Toward mental disorders and potential negative effects on sentencing. Law & Society Review, 53, 202-238.
https://onlinelibrary.wiley.com/doi/abs/10.1111/lasr.12382
Berryessa, C. M., & Wohlstetter, B. (2019). The psychopathic "label" and effects on punishment outcomes: A meta-analysis. Law and Human Behavior, 43, 9-25.
https://doi.org/10.1037/lhb0000317
Berryessa, C. M. (2018). The effects of psychiatric and "biological" labels on lay sentencing and punishment decisions. Journal of Experimental Criminology, 14, 241-256.
https://doi.org/10.1007/s11292-018-9322-x
Berryessa, C. M. (2017). Jury-eligible public attitudes toward biological risk factors for the development of criminal behavior and implications for capital sentencing. Criminal Justice and Behavior, 44, 1073-1100.
https://journals.sagepub.com/doi/10.1177/0093854817716485