Dr. Jody Miller
Distinguished Professor and Undergraduate Program Chair
Education
Ph.D. (1996) Sociology, University of Southern California; M.A. (1991) Women's Studies, The Ohio State University; M.A. (1990) Sociology, Ohio University; B.A. (1989) Journalism, Ohio University
Office Location
CLJ 555
Office Hours
Mornings By Appointment
Areas of Specialization
Feminist/Gender Theory
Gender, Crime and Victimization
Qualitative Research Methods
Race, Neighborhoods and Inequality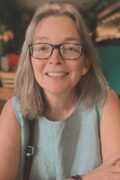 Bio
Jody Miller (pronouns: she/her) joined the Rutgers-Newark faculty in 2010. Her research utilizes qualitative methods to investigate how inequalities of gender, race, sexuality and place shape participation in crime and risks for victimization, with concentrations in the United States and South Asia. Miller has won numerous awards for her work, including the American Society of Criminology Herbert Bloch Award (2022) and Mentor Award (2015), the Coramae Richey Mann Award from the ASC Division on People of Color and Crime (2009), the ASC Division on Women and Crime's Distinguished Scholar Award (2010) and New Scholar Award (2001), and the ASC's Ruth Shonle Cavan Young Scholar Award (2001). She is a Fellow of the American Society of Criminology (ASC) and former Co-Editor (2018-2023) of ASC's flagship journal, Criminology. She is a member and former Co-Director (2016-2023) of the National Science Foundation-sponsored Racial Democracy, Crime and Justice Network (RDCJN).
Recent & Key Publications
Bhardwaj, N. & Miller, J. (2021). Comparative Cross-National Analyses of Domestic Violence: Insights from South Asia. Feminist Criminology. 16(3): 351-365.
Miller, J. & Palacios, W.R. (Eds.). (2015). Qualitative research in criminology.  Advances in Criminological Theory, Volume 20. Piscataway, NJ: Transaction Publishers.
https://www.routledge.com/Qualitative-Research-in-Criminology-Advances-in-Criminological-Theory/Palacios/p/book/9780367598259
Miller, J. (2008). Getting Played: African American Girls, Urban Inequality, and Gendered Violence.  New York, NY: New York University Press.
https://nyupress.org/9780814756980/getting-played/
Miller, J. (2001). One of the Guys: Girls, Gangs, and Gender.  New York, NY: Oxford University Press.
https://global.oup.com/academic/product/one-of-the-guys-9780195130782?q=one%20of%20the%20guys&lang=en&cc=us