Dr. Bonita Veysey
Acting Dean & Professor
Education
Ph.D. (1993) University at Albany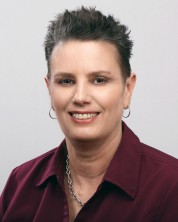 Bio
Bonita Veysey, Ph.D. is the Dean & Professor in the School of Criminal Justice at Rutgers University-Newark. Prior to her employment at Rutgers, Dr. Veysey was a Senior Research Associate at Policy Research Associates in Delmar, New York. During that time, she was the Director of the Women's Program Core and the Associate Director of the National GAINS Center, a policy and technical assistance center that provides guidance and support on mental health and substance abuse treatment to institutional and community corrections agencies across the United States. She was also a primary researcher in the area of mental health-criminal justice systems interactions. Dr. Veysey's research to date has focused on behavioral health and justice issues, including continuity of care and reentry; police interactions with persons with mental illnesses; mental health and substance abuse treatment in jails and prisons; diversion and treatment services for youth with behavioral health problems; treatment and supervision of justice-involved girls and women; and the adult consequences of early childhood trauma. She was the Co-principal Investigator of the Franklin County (MA) site of the SAMHSA-funded "Women, Co-occurring Disorders and Violence Study," and was the Lead Evaluator on the CSAT-funded RECOVER Project also in Franklin County. More recently, Dr. Veysey has focused her attention on issues of transformation and recovery. In the past few years, she has developed projects to investigate: (1) how individuals with stigmatized statuses overcome their pasts (Moments of Transformation study), (2) the nature of offender reform through the collection of oral histories of formerly incarcerated persons (Narratives of Prisoner Reform), and (3) how implicit self-stereotyping affects persons with criminal experiences (Implicit Criminal Identity studies). Dr. Veysey continues to consult with local communities and corrections agencies to help develop comprehensive supports (including peer-to-peer models) for people in recovery from addictions, physical and sexual abuse, and mental health problems and those returning from jail and prison.
Website
Recent Publications
Boxer, P., Docherty, M., Ostermann, M., Kubik, J., & Veysey, B. (2017). Effectiveness of Multisystemic Therapy for gang-involved youth offenders: One-year follow-up analysis of recidivism outcomes. Children and Youth Services Review, 73, 107-112.
Kubik, J., Docherty, M., Boxer, P., Veysey, B., & Ostermann, M. (2016). Examining the moderating role of gang involvement on the context and impact of victimization. Journal of Criminological Research, Policy and Practice, 2(2), 107-121.
Boxer, P., Kubic, J., Ostermann, M, & Veysey, B.M. (2015). Gang involvement reduces the effectiveness of evidence-based intervention for justice-involved youth. Children and Youth Services Review, 52, 26-33.
Rivera, L.M., & Veysey, B.M. (2015). Criminal justice system involvement and gender stereotypes: Consequences and implications for women's implicit and explicit criminal identities. Albany Law Review, 78(3), 1109-1128.
Veysey, B.M. (2015). The effect of gender role incongruence on the adjudication of criminal responsibility. Albany Law Review, 78(3), 1087-1107.
Two R&R:
Rivera, L.M. & Veysey, B.M. (R&R). Implicit criminal identity predicts justice system involvement: Cross-sectional and longitudinal evidence. Law and Human Behavior.
Veysey, B.M., & Rivera, L.M. (R&R). Implicit criminal identity and age: Implications for criminal persistence and desistance. Criminal Justice and Behavior.