Dr. Elizabeth Griffiths
Associate Professor & PhD Program Director
Education
Ph.D. and M.A. in Sociology, University of Toronto; B.A. (First Class Honours) in Sociology, University of Calgary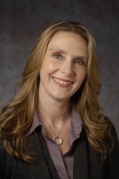 Bio
Elizabeth Griffiths received her Ph.D. in Sociology at the University of Toronto in 2007.  She held a faculty position in the Department of Sociology at Emory University before moving to Rutgers University-Newark's School of Criminal Justice in 2011.  Her research focuses broadly around the influence of place on the distribution and movement of crime across space.  More specifically, her work closely attends to spatiotemporal changes in the distribution of crime, refining the measurement of space and spatial influence, and delineating the implications of urban, suburban, and rural context on crime.  Recently, her scholarship has begun to explore how system actors and policy officials substantively shape case processing and criminal justice outcomes.  In a large, multidisciplinary, mixed-method project funded by the National Science Foundation, Dr. Griffiths examines how race, space, and geography condition the policing, prosecution, and punishment of felony drug crimes over a decade in Fulton County, Georgia.
Key Publications
Xu, Jie and Elizabeth Griffiths. 2016. Shooting on the Street: Measuring the Spatial Influence of Physical Features on Gun Violence in a Bounded Street Network.
Journal of Quantitative Criminology.
DOI: 10.1007/s10940-016-9292-y
Nir, Esther and Elizabeth Griffiths. 2016. Sentencing on the Evidence.
Criminal Justice Policy Review
. DOI: 10.1177/0887403416635248
Griffiths, Elizabeth and Johnna Christian. 2015. Considering focused deterrence in the age of Ferguson, Baltimore, North Charleston, and beyond. Policy Essay.
Criminology & Public Policy
14 (3): 573-581.
Howell, James C. and Elizabeth Griffiths. 2015.
Gangs in America's Communities
(2 Ed.). Thousand Oaks, CA: Sage.
Griffiths, Elizabeth. 2013. Race, Space, and the Spread of Violence across the City.
Social Problems
60 (4): 491-512.
Griffiths, Elizabeth, Carolyn Yule and Rosemary Gartner. 2011. Fighting over Trivial Things: Explaining the Issue of Contention in Violent Altercations.
Criminology
49 (1): 61-94.