Raven Lewis
Research Areas
Juvenile Delinquency, Victimization, and Help-Seeking Behavior
Corrections and Prisoner Reentry
Collateral Consequences of Imprisonment
Incarceration and Family Dynamics
Race/Gender/Class, Crime, and Justice Nexus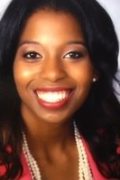 Bio
Raven A. Lewis is a Ph.D. candidate who began her academic career at Rutgers in 2019. She is a native of Washington, D.C., and holds a dual-major Bachelor of Arts degree in Criminology & Criminal Justice and Psychology from the University of Maryland, College Park, where she graduated Cum Laude. Raven earned her Master of Arts degree in Criminology from the University of Delaware, receiving acknowledgment as a Phi Kappa Phi graduate.
Raven's research interests are broadly in the areas of (1) juvenile victimization and help-seeking behaviors; (2) the intersectionality of race/ethnicity, gender, and criminal justice; and (3) the collateral consequences of imprisonment. Her most recent publication, appearing in Race and Justice, examined how school demographics and racialized attitudes about crime influence school disciplinary decisions. Currently, she is devoting research to assessing (1) the role that the school environment has on peer victimization and (2) the family dynamics of (formerly) incarcerated individuals.
As a result of her scholarly endeavors, Raven was selected for the highly competitive Research Assistantship Program Fellowship from the National Institute of Justice (NIJ). She also works with Dr. Sarah Lageson on a qualitative study assessing the impact of automated record clearance on individuals, families, and communities. In addition to the NIJ fellowship, Raven was awarded the 2022 Doctoral Summit Scholarship by the Academy of Criminal Justice Sciences and the Rutgers Graduate School-Newark Norman Samuels Fellowship.
Raven is a lifelong learner. She enjoys traveling, engaging in book clubs, and studying new languages in her spare time.
AWARDS
2022
Lewis, Raven. Doctoral Summit Scholarship, Academy of Criminal Justice Sciences
2021
Lewis, Raven. National Institute of Justice's Research Assistantship Program
2020
Lewis, Raven. Rutgers GSN Norman Samuels Fellowship
PUBLICATIONS
Dunbar, A., Kupchik, A., Hughes, C., & Lewis, R.A. (2019). Fear of a Black (And Poor) School: Race, Class, and School Safety Spending Preferences. Race and Justice. https://doi.org/10.1177/2153368719881679