Dr. Sarah E. Lageson
Assistant Professor
Education
Ph.D. (2015) University of Minnesota; M.A. (2012) University of Minnesota; B.A. (2007) Washington University in St. Louis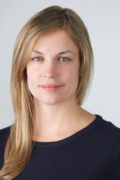 Bio
Sarah Lageson received her PhD in Sociology from the University of Minnesota. Her current research examines the growth of online crime data, mugshots, and criminal records that create new forms of "digital punishment."  Sarah is a grant recipient of the National Institutes of Justice New Investigator Early Career Award for her study of criminal records. Her work has appeared in Criminology, Law and Society Review, Law and Social Inquiry, Punishment & Society, The British Journal of Sociology, Contexts, and numerous edited volumes. A former Americorps VISTA volunteer and Research Coordinator for the Council on Crime and Justice in Minneapolis, Sarah is interested in mixed methods research and producing scholarship accessible to policy and broader public debate.
Website
Alessandro Corda and Sarah Lageson. 2019. Disordered Punishment: Workaround Technologies of Criminal
Records Disclosure and the Rise of a New Penal Entrepreneurialism. Forthcoming in British Journal of Criminology
Sarah Lageson and Shadd Maruna. 2018. "Digital Degradation: Stigma Management in the Internet Age." Punishment
& Society 20(1):113-133.
Sarah Lageson. 2017. "Crime Data, the Internet, and Free Speech: An Evolving Legal Consciousness." Law &
Society Review 51(1):8-41.
Mike Vuolo, Sarah Lageson, and Chris Uggen. 2017. "Criminal Record Questions in the Era of 'Ban the Box.'"
Criminology & Public Policy 16(1):139-165.
Sarah Lageson. 2016. "Found Out and Opting Out: The Consequences of Online Criminal Records for Families."
The ANNALS of the American Academy of Political and Social Science 665(1):127-141.
Sarah Lageson. 2016. "Digital Punishment's Tangled Web." Contexts 15(1):22-27. Available online. Reprinted in
Contexts Reader 3rd Edition, 2018. Syed Ali & Philip N. Cohen, eds. New York: W.W. Norton.