Dr. Sarah E. Lageson
Associate Professor
Education
Ph.D. (2015) University of Minnesota; M.A. (2012) University of Minnesota; B.A. (2007) Washington University in St. Louis
Office Location
CLJ, 553
Office Hours
By Appointment
Areas of Specialization
Law and Society
Sociology of Punishment
Criminal Records
Technology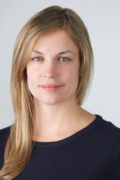 Bio
Sarah Lageson studies criminal law, privacy, surveillance, and tech and her research examines the growth of online crime data, mugshots, and criminal records that create new forms of "digital punishment." Sarah is a grant recipient of the National Institutes of Justice New Investigator/Early Career Award for her study of criminal records and is a 2020-2021 Access to Justice Scholar at the American Bar Foundation. Her research has been published in peer-reviewed journals including Criminology, Law & Society Review, Law & Social Inquiry, Punishment & Society, and The British Journal of Criminology. Her book, Digital Punishment: Privacy, Stigma, and the Harms of Data-Driven Criminal Justice, was published in 2020 by Oxford University Press.
Website
Recent Grants
American Bar Foundation and JPB Foundation Access to Justice Scholar Award for "Realizing a Clean Slate: Expanding Access and Improving Outcomes for Automated Criminal Record Expungement." $74,000
National Institutes of Justice New Investigator/Early Career Award for "Multi-Level Analyses of Accuracy and Error in Digital Criminal Record Data." $190,909
Recent Publications
Lagesons, S. (2021).  "Digital Punishment." In Fundamental Rights and Criminal Procedure in the Digital Age. Sao Paolo, Brazil: InternetLab.
Lagesons, S. & Kaplun, K. (2021).  "Public Accusation on the Internet."  In Media and Law: Between Free
Speech and Censorship, Sociology of Crime, Law, and Deviance, Volume 26. Deflem, Mathieu and Derek M.D. Silva, eds. Bingley, UK: Emerald Publishing.
Lagesons, S. (2021).  "Book Review: Captivating Technology: Race, Carceral Technoscience, and Liberatory Imagination in Everyday Life edited by Ruha Benjamin." Contemporary Sociology 50(1): 28-29.
Lagesons, S. (2021).  "Studying Surveillance and Tech Through 'Digital Punishment'" in Society, Ethics & The Law: A Reader, David A. Mackey and Kathryn M. Elvey, eds. Burlington, MA: Jones & Bartlett.
Lageson, S. (2020). Digital punishment: Privacy, stigma, and the harms of data-driven criminal justice.  Oxford University Press.
https://global.oup.com/academic/product/digital-punishment-9780190872007?cc=us&lang=en&
Lageson, S. (2020). The purgatory of digital punishment. Slate.
https://slate.com/technology/2020/06/criminal-justice-records-online-digital-punishment.html
Lageson, S. (2020). How criminal background checks lead to discrimination against millions of Americans. Washington Post.
https://www.washingtonpost.com/opinions/2020/07/10/personal-data-industry-is-complicit-bad-policing-it-must-be-held-accountable/
Lageson, S. (2020). Mugshots don't belong on search engines. San Francisco Chronicle.
https://www.sfchronicle.com/opinion/openforum/article/Mug-shots-don-t-belong-on-search-engines-15395798.php#:~:text=Mug%20shots%20are%20clickbait%20because,of%20how%20search%20algorithms%20work.
Corda, A., & Lageson, S. (2020).  Disordered punishment: Workaround technologies of criminal records disclosure and the rise of a new penal entrepreneurialism.  British Journal of Criminology,60, 245-264.
https://academic.oup.com/bjc/article/60/2/245/5520079
Lageson, S., & Maruna, S. (2018).  Digital degradation: Stigma management in the internet age.  Punishment & Society, 20, 113-133.
https://journals.sagepub.com/doi/abs/10.1177/1462474517737050
Lageson, S. (2017). Crime data, the internet, and free speech: An evolving legal consciousness.  Law & Society Review, 51, 8-41.
https://onlinelibrary.wiley.com/doi/abs/10.1111/lasr.12253